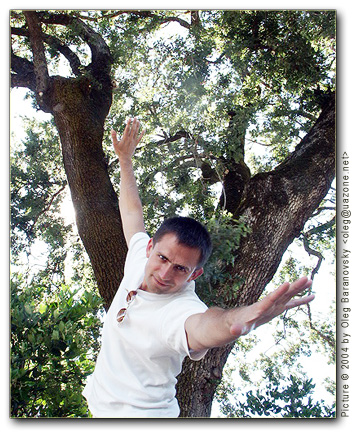 Oleg Baranovsky Personal Homepage
---
This is my primary personal space on the web. The main address for this page will always be http://oleg.baranovsky.org/, however there are several redirects from my pages at some other online projects I have. Here is also my personal pictures page.
About
I am computer professional, web developer and entrepreneur. Born and raised in Kiev (aka Kyiv), Ukraine I currently settled in Los Angeles, California after living in a number of wonderful places. Nevertheless I still have very strong ties to my friends in San Francisco and SF Bay Area, where I used to live for many years.
I worked as a CTO at several great companies, and helped co-found couple others. I also worked for the US Dept. of State mananging IT departments for US embassies overseas for several years.
I am also a president of the Los Angeles PHP Developers Group – a user group of some 1200 and growing web developers in the Los Angeles/South California area. We are one of the largest PHP groups in US and one of the largest users groups here in Los Angeles agrea. I am also running (or otherwise involved in) a number of other developer groups and web projects, some of them are listed below.
Some of the projects I created or worked for
UA Zone.net – The Ukrainian Information Project. It was one of the first English speaking web projects in Ukraine and about Ukraine. It features an extensive guide to Kiev and Ukraine, one of the largest online picture galleries of Ukraine, Kiev (Kyiv), Lviv and other Ukrainian cities as well as travel pictures from our hiking trips to Crimea and Carpathian mountains. UA Zone project quickly gathered an online community of extremely talented people and became a sort of unofficial web incubator, helping to jump-start many other Ukrainian web projects. A number of Ukrainian web design studios and online businesses went through our hands or were touched by us in one way or another, many of whom are very successful nowadays.
UA Zone also became the platform for many online non-profit and public interest projects, driven by enthusiasts. Some of the projects created under the UA Zone umbrella are:
I am also running a number of developer groups here in Los Angeles:
I got my MS in Physics and Engineering from Kiev State University in 1993 and also have a number of professional certifications.
Contact
Email address: oleg -at- uazone -dot- net
For secure communications here is my PGP/GPG key.
Key ID: 0xC7F6DFA6
Key fingerprint: 4916 436F 01D3 62E8 E864 C9F3 4941 B2E8 C7F6 DFA6
Here are my profiles on other social networks:
Old Projects
Here are the links to some old projects and widgets that are still referenced available:
LEDSign applet written by Derrick Brown. Unfortunately he does not support it any more. But you can get it from here: LEDSignV27_tar.gz - (65k)
Running Rainbow java applet applet. You may use it freely under the condition you will preserve a copyright reference.
---


---